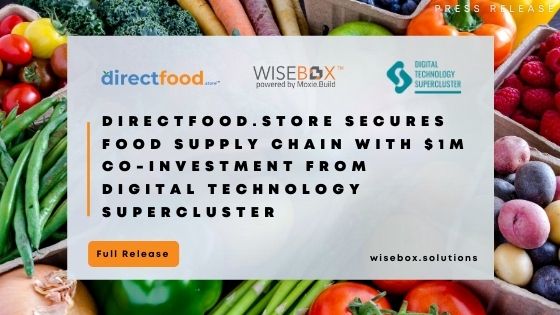 DirectFood.store Selected for $1M Co-Investment from the Digital Technology Supercluster to Secure the Food Supply Chain
Led by Wisebox Solutions, the project connects farmers directly with consumers, restaurants and charities.
Abbotsford, BC: Wisebox Solutions is pleased to announce that it has been selected for a CAD 1M co-investment from the Digital Technology Supercluster COVID-19 Program, which will secure the food supply chain through the launch of the DirectFood.store online marketplace. The investment will help the Fraser Valley-based technology company create a one-stop shop for consumers to source fresh food directly from local producers, all without warehousing, processing facilities, stores or other distributors.
Led by Wisebox Solutions, the project brings together i-Open Technologies, Novex Delivery Solutions, Nutriva Group and Berryhill Growers farms, and two restaurants, Eat Fresh Pizza and Mission City Pizza, as part of the consortium and early adopter group. Wisebox has identified 26 new regions within North America, is in discussion with several US state ministries of Agriculture and has executed a teaming agreement with one local channel within the state of South Carolina. This aggressive growth plan and collective funding sources will allow the firm to generate dozens of new skilled technical jobs locally; all development and corporate operations are being handled in Abbotsford, BC.
The technology solution allows food producers to list their goods on the website where consumers and restaurants can browse and select what they want. Their order will be ready for pick-up and delivery by drivers the next day. Through its partnership with a large international payment processor, vendors of DirectFood.store receive payments directly into their own merchant account, and consumers and restaurants receive a separate receipt from each vendor. This precedent-setting direct sales business model within a common marketplace, combined with free delivery, sets DirectFood.store apart from the crowd. Furthermore, unlike many boxed and warehoused food suppliers, DirectFood.store will provide next day delivery of fresh, healthy and organic products following a direct "farm to table" concept – all from local providers with not more than one hour of travel.
"The DirectFood.store project demonstrates the power of collaborative innovation to solve real challenges to the food supply caused by the COVID-19 pandemic," explained Bill Tam, Co-Founder and COO of the Digital Technology Supercluster.
The marketplace will leverage the precision agriculture platform Agrilyze (from i-Open Technologies), to address specific challenges like tracking food's journey through the supply chain for both consumers and public service departments. In addition, the integration between DirectFood.store and Agrilyze will assist farmers, producers, and suppliers to comply with legislation as they face more stringent requirements and regulatory standards.
The integration will also improve transparency and visibility throughout the food supply chain while providing AI-driven analytics to help farmers make more sound business decisions around planting and harvesting. Restaurants and charities can use the system to order and deliver local products. They then have the advantage of advertising fresh, local ingredients. Through the traceability and transparency enabled technology, they can share which farms provided the ingredients and sell much healthier solutions rather than processed or frozen foods.
Colin Schmidt, CEO of Wisebox Solutions comments, "DirectFood.store is not only positioned to become the market leader in online grocery delivery, but we are also confident that our proven technology framework will address COVID-19 related contact-free shopping immediately while delivering a fully integrated online fulfillment system that will increase profitability for local grocers and suppliers. On behalf of Wisebox and the consortium that forms this partnership, I would like to thank the staff and committee of the Digital Technology Supercluster for their support to date and for presenting this opportunity to revolutionize consumer experience with easy and seamless access to fresh, healthy local food."
About DirectFood.store: DirectFood.store aims to become the leading online grocery delivery platform, boosting the local food supply chain and creating a unique and seamless experience. With the right solution, the eGrocery market is primed for growth, and DirectFood.store is ready to take the lead. DirectFood.store is developed by Wisebox Solutions, a Fraser Valley-based leader in software development and e-commerce solutions, with 20+ years of experience in marketplaces, e-commerce portals and membership platforms for organizations across North America. For more information, visit: www.directfood.store or follow us on Facebook or Instagram.
About Digital Technology Supercluster: The Digital Technology Supercluster solves some of the industry's and society's biggest problems through Canadian-made technologies. We bring together private and public sector organizations of all sizes to address challenges facing Canada's economic sectors including healthcare, natural resources, manufacturing, and transportation. Through this 'collaborative innovation,' the Supercluster helps to drive solutions better than any single organization could on its own.  The Digital Technology Supercluster is led by industry leaders such as D-Wave, LifeLabs, LlamaZOO, Lululemon, MDA, Microsoft, Mosaic Forest Management, Sanctuary AI, Teck Resources Limited, TELUS, Terramera, and 1Qbit. Together, we work to position Canada as a global hub for digital innovation. A full list of Members can be found here.
About the COVID-19 Program: The COVID-19 Program funds projects that improve Canadians' health and safety while supporting Canada's ability to address issues created by the COVID-19 outbreak. These projects also build expertise and the capacity to address and anticipate issues that may arise in future health crises. More information can be found here.
For further information, please contact:
Colin Schmidt
Digital Technology Supercluster
Kathleen Ried
604-724-1242