Raymond Speaks on Sustainable Technology at Globe Series 2020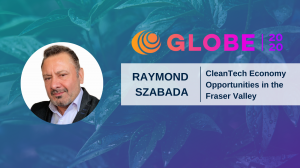 CEO & President of i-Open Group, Raymond Szabada, was invited to be a part of GLOBE 2020, a sustainable business summit and innovation showcase. He discussed clean economy opportunities in the Fraser Valley and sustainable technology. Located adjacent to Metro Vancouver, the Fraser Valley is British Columbia's third-largest metropolitan region. In 2018, the Fraser Valley's clean economy was valued at $1.17B, supported by one of the most productive and diversified agriculture sectors in Canada. The Fraser Valley is a growing hub for agrifood, trade, and cleantech manufacturing.
Ray's session put a spotlight on the Fraser Valley's clean economy needs and opportunities through a panel discussion with industry and community leaders. Ray hopes to be involved in further types of discussions, impacting his mission to deliver real and sustainable technology solutions for a better planet.